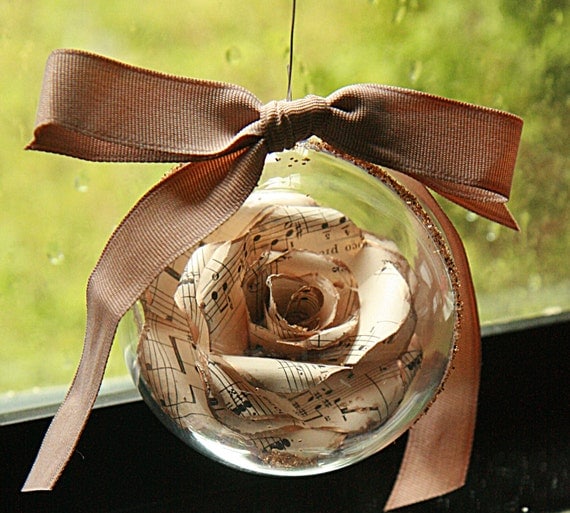 Sometimes I have a difficult time deciding whether pinterest is fabulous or the cruel trap of an inspiration-filled time drain. Sometimes, though, I find an inspirational idea and run with it.
In those moments, I have no doubt of the fabulousness.
I'd seen paper rose bouquets on pinterest and always thought they were beautiful. In fact, if I had seen the idea before my own wedding, my bridal bouquet would have been filled with sheet music roses mixed in with the red roses I loved.
Even so, I didn't attempt to make paper roses for a long time. They looked complicated. The first attempt I did make at a paper rose was a complete flop. I put the idea on the back burner.
Later on, I picked up a stack of antique sheet music from a materials exchange table at our local art gallery. I didn't know what I wanted to do with it, but it spoke to me.
Then, I remembered the roses.
Eventually, I came across a tutorial that made perfect sense to me. It didn't require printing a pattern on the paper I wanted to use, and it was simple.
One rose, and I was hooked.
It wasn't tedious as I'd expected, but instead, I thoroughly enjoyed it. I wanted something unique to do with the roses and had the idea to create an ornament.
I gathered the fillable ornament, glitter, ribbon, a gold leafing pen, and antique sheet music, and got to work.
I had fun! Soon, I posted some photos in my Etsy shop and it wasn't long before I started getting orders.
Since then, I've made paper rose ornaments for sympathy gifts delivered to funeral homes, for wedding gifts for newlyweds' first Christmas trees, (especially for those following the German Wedding Ornaments tradition!), thank you gifts with custom ribbon colors, and more. I used an old, falling-apart hymnal to create a paper rose bouquet for my sister, and I've used book and dictionary pages too. I've even used playful paper and outdoor modpodge to create an arrangement for my baby girl's grave. The possibilities are endless.
I've looked for that tutorial many times since then and haven't found it again, or I would share it specifically. Even so, I've developed my own approach to rose making as I've made rose after rose.
I still enjoy making roses and always feel excited when I get a new order. I especially feel excited for custom orders, knowing that someone will be receiving a unique,  personalized gift for some special occasion.  I hope my creations bring joy to others!